introduction
Several years ago, I had coffee with the CEO of Hemisphere Energy (OTCQX: HMENF) in Vancouver. At that time the company was a rather marginal producer and I decided not to invest. In the years that followed, I was right not to have invested in Hemisphere Energy, but the company is now running at full speed thanks to the high price of oil. It is now expected to exit this year with a net production rate of 3,000 barrels of oil equivalent per day and at the current price of oil it is trading at just three times its free cash flow. I missed the momentum but wanted to check again if maybe I should go in.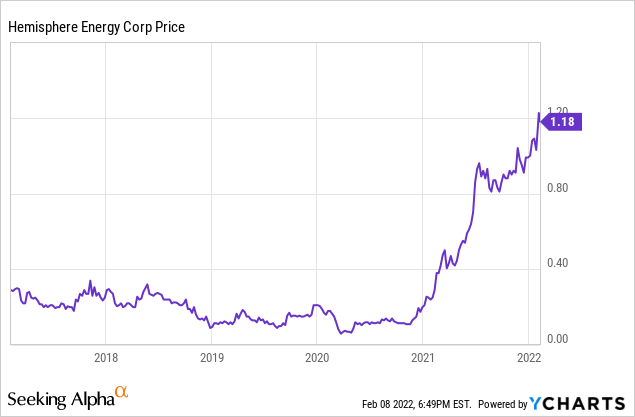 Hemisphere Energy is a nanocap with a market cap of just under C$110 million and a fully diluted market cap of approximately C$130 million. Small businesses like this should always be approached with caution and it is important to always work with limit orders. Hemisphere's most liquid listing is on the TSX Venture Exchange where it trades with HME as a stock symbol. Average daily volume is much better in Canada, with average daily volume just over 150,000 shares.
The forecast for 2022 looks encouraging, thanks to the price of oil
Hemisphere provided its official guidance for 2022 in January and the company expects to have an average annual production rate of 2,600 boe/day, a 44% increase over the average production rate in 2021. It plans to spend C$9 million in capital expenditures. and that should be enough to exit 2022 with a production rate of 3,000 boe/day and that would be an increase from the exit rate of 2,400 boe/day in 2021.
The company has provided a nice chart that includes sensitivity analysis using different oil prices and it's interesting to see that even at $65 WTI, Hemisphere expects to generate CAD 31 million in AFF which should result in a free cash flow of C$22 million after deducting the projected capital bill of C$9 million. Given these numbers, Hemisphere expects to come out this year with C$5 million in net cash. And for completeness, the table below takes into account a WCS differential of 12.5 USD/barrel for the period February-December, and a discount of 17.38 USD in January.

At $75 oil, free funds flow should be $28m, or about $0.31 per share. It would also increase the projected year-end net cash position to C$11m or C$0.12 per share, so it's understandable that the market is getting excited about Hemisphere in a $90 oil price environment. . If the WTI oil price averaged $85/barrel throughout 2022, Hemisphere would generate C$32 million (C$0.35 per share) in free cash flow and end the year at $0.16 net cash sales per share.
This of course assumes that capital expenditure will remain unchanged at C$9 million. Given the current strength in oil markets, I wouldn't be surprised if Hemisphere tried to increase the rate of production even further, as it can easily do so using projected cash inflows. At $75 oil, I think Hemisphere would be able to fund an expansion at an exit rate of 4,000 boe/day while paying down net debt.
The company has some hedges in place and also sold call options on oil prices and maybe that could be a good strategy for the future as well as selling call options is a good way to get some cash inflow immediate funds.
Achieving net cash status would further boost the company's free cash flow performance, as it paid approximately C$1.5 million in annual interest expense. Plus, there are a bunch of options going that are now in the money. If the options expiring in 2022 were exercised, the number of shares would increase to 96 million shares, but the company would also receive proceeds of C$1.2 million, further strengthening the balance sheet.

There may, however, be some pressure on the share price in the third quarter, as Hemisphere issued 13.75 million warrants to a third-party lender in September 2017. These warrants have an exercise price of CA$0.28 and expire September 15. these warrants are now deep in the money, investors should expect the warrants to be exercised and it will be important to ensure that some block trades can be arranged to provide the lender with an exit strategy when trading. exercise of warrants. According to Hemisphere, the lender has already exercised a quarter of the warrants cashless on October 25, 2021, so it looks like the two parties are indeed working together to prevent millions of shares from suddenly hitting the market.
Either way, with warrants and options now heavily invested, hemispheric investors should expect the company to end the year with nearly 110 million shares outstanding. This means that in the WTI oil price scenario at US$75, free cash flow per share will likely be around C$0.25. On the other hand, proceeds from options (C$1.2 million) and warrants (C$3.8 million) will further strengthen the balance sheet.
Investment thesis
Although Hemisphere's current market capitalization is slightly less than C$110 million, I would argue that we should use the fully diluted share count of nearly 110 million shares, given that all warrants and options are deep in the money at this point. This will increase the market capitalization to around C$130m, but it also means year-end net cash will likely exceed C$15m (at US$75 WTI) or C$0.13/share.
The company now seems to have its cards in hand and certainly has the financial flexibility to accelerate its development program. Hemisphere is pretty cheap, trading at just 4.5x free cash flow using $75 WTI, but I'd like to see the company develop its production profile before chasing the stock. I will keep an eye on the company's performance and plans, but I already have enough exposure to oil companies in my personal portfolio.